16th July 2015 – 7:00pm to 12.00pm
Hebden Bridge 2015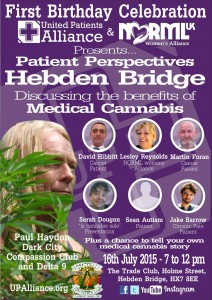 We have been asked to speak at some UPA meeting in the UK, Paul Haydon will speak for DCCC

Paul :- Be real nice to see some of you at the meeting friends old and new 😉
Please invite your friends and family along to learn more about cannabis as medicine. Thank You!

 16th July 2015 – 7:00pm

The Trade Club, Holme Street,
Hebden Bridge, HX7 8EE
---
A meeting to discuss the medical benefits of cannabis and evidence based drug policy.

Including testimonials from cannabis patients & expert speakers from the cannabis movement and a chance for you to come and tell your story and share your experience of cannabis as a medicine.

Speaking:

Paul Haydon – D'ark City Compassion Club/D'ARK CITY RADIO and Delta9
David Hibbitt – Cancer Patient
Lesley Reynolds – NORML womens Alliance
Martin Foran – Cancer Patient

Sean – Autism Patient

Sarah Dougan – Biologist: Is Cannabis Safe?

Jake Barrow – Chronic Pain Patient

More speakers TBA soon.

---

If you would like to speak about your experience with medical cannabis please message Sarah Sativa or Alex Fraser or email upaevents@gmail.com

---

come meet some of the darkcityradio crew
Nigel Rolland Sarah Sativa Harry Shambala James Norton Paul Haydon Paul Cotton Martin Edward Sean, Bob Neil Ramsey Please invite your friends and family along to learn more about cannabis as medicine. Thank You!