A little while ago Paul from Dark City Compassion Club (DCCC) was looking for some assistance with testing of cannabis oil, and in the process came across Green Seed Alicant, situated in Alicante, Spain.
Its been a long hard road until now, we knew there were others, who we could be working along side who have also put everything they had into making the dream real, but the day Paul walked into Green Seed Alacant he had one thing on his mind: testing the oil we use for medicinal purposes.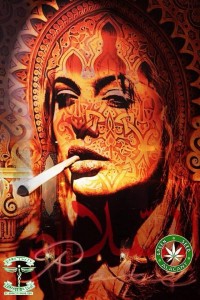 Paul had been told about the place by one of the DCCC crew from Sweden, Paul was blown away by just about everything, but it was the 3rd time he visited when things just happened all at once, all he could say was it was a melding of minds, we had found the others we always felt we knew.  Paul and Fredrick hit it off right away and have gone from strength to strength.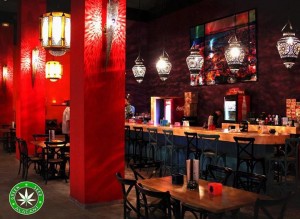 Green Seed Alicant (GSA) is a Cannabis Association with a difference, the decor takes you to Morocco  with a great laid back attitude, with lots of friendly people.  Its a club run for the members, the well stocked bar has everything from beer to bottled water and coffees and even aloe vera, they offer a wide selection of munchies too 🙂
There is plenty of really comfortable seating as well, with lots to do from reading books, using your laptop, playing computer games or just being sociable while listening to the music.  They also hold English lessons and yoga classes.  They provide dinner for their members as well every now and again at the weekend.  They have also been known to have entertainment nights.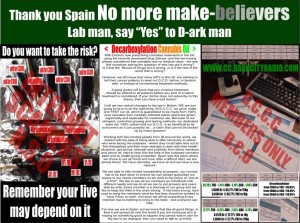 At Green Seed Alicant the president is Fredrick a very tall and friendly Dutch man very welcoming to all the members.  There are also a number of large rooms up stairs where the class's are held in yoga and also English this space has so much potential for more workshops.
You go to the bar for your daliy allowance of weed or hash medical users get more when they show proof of illness to GSA.  There is always a good selection which includes DCCC >99.85%  Decarboxylated  Cannabis oil for medical purposes.   We will also be stocking balms and other products for GSA to provide for medical users.
Ever since Paul and Fredrick spoke Paul has introduced more people to Green Seed Alicant. Mandy Cupcake and Jimmy Ganjaland came to Green Seed Alicant and loved every minute.
We had a few goes on their volcanoes as its important for us to test out the equipment 😉
Vapourising can be a great way of getting cannabinoids into your body.  Its a far superior way to inhale the cannabinoids, you can set this vapouriser at different temperature to vape certain cannabinoids.
Temperatures Cannabinoids Vaporise
THC – 157 °C.
CBD – 160 – 180 °C.
Delta-8-THC – 175 – 178 °C.
CBN – 185 °C.
CBC – 220 °C.
THCV – 220 °C.
We really couldn't keep away and came back again but this time with Nigel Rolland, a councilor from the Green Party in Manchester, UK.  Kush came along as well.  We showed them around the club and we all had a great time, and introduced them to Fredrick it was a great evening.
Getting a warm welcome from Fredrick at Green Seed Alicant
By Sarah Dougan
Dark City Compassion Club Science Adviser
DCCC working along side GSA
WE GET THE JOB DONE
Bob Photos Sep 2015
Keep your eye on the blog for all the latest up dates on our work together.
#darkcitygreenseed