This week on Dark City Compassion Club we welcomed Sarah Swain, lawyer of Shona Banda. Shona is a medical cannabis activist, author and mother from Kansas, United States. Shona's son has been taken by the state after he innocently spoke out against anti-cannabis propaganda being taught in his school. Without regard for his welfare, and in particular his emotional wellbeing, the state has since retained custody of the child while pursuing drug charges against his mother.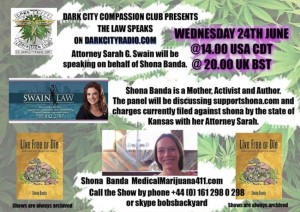 Shona faces five charges in total, including a "level 1 drug felony", equivalent to the charge that would be levelled against someone found producing methamphetamine. There is no suggestion that Shona planned to trade in any substance and no other drugs were found aside from cannabis. Shona was producing cannabis oil to treat her own serious and debilitating illness, namely Crohn's disease. Shona reports that before using the oil she was weak, constantly fatigued, suffered from constant gastrointestinal symptoms and walked with a cane. Since using the oil Shona can walk unaided and was able to lead a full life – until the state took her medicine and her child.
Now, Shona faces 30 years in prison, which would certainly result in her losing custody of her son and would likely be tantamount to a death sentence for Shona, considering the United States' dire record on prisoner healthcare.
In short, Shona and her son are being subjected to a serious violation of their human rights. For having the audacity to speak against the authority and propaganda of the state, her son has lost his mother. For having the temerity to treat herself with the most safe of medicines, Shona has lost her son and faces losing her liberty and her life. So much for "the land of the free".