Wednesday 4th November 2015 8pm-9pm BST
 

DarkCity Cannabis Compassion Club
with Cannabis Free
This week we will be interviewing Cannabis Free, he has been an activist for the last 20 years and has done loads for the movement.
Free Love Cannabis, Hemp missionary, Cannabis activist and very, very much man on a mission.
That mission is to raise awareness about the most healing, beneficial plant on the face of the planet.  Cannabis Free also runs Hemp In Avalon in Glasstonbury.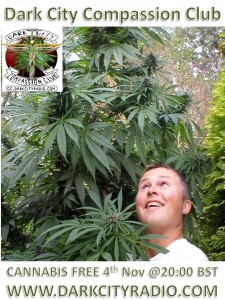 Don't forget to keep up to date with everything at Dark City Compassion Club in our facebook group https://www.facebook.com/groups/521926244542674/?fref=ts