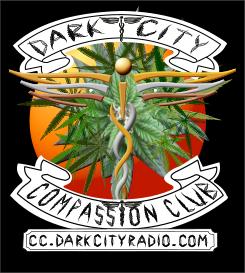 On Thursday 16th July Dark City Compassion Club will be at the UPA event in Hebden Bridge at the Trades' Club. A lot of the Dark City crew will be there and we'd love to see as many people as possible. These events are incredibly important, coming together with one purpose, even for a few hours, is something this movement doesn't do often enough. It's our hope that this event will mark the start of a new chapter for Dark City CC and for this movement. Come down, meet the crew and bag yourself a cool mug, an awesome hoody or a sweet t-shirt! (see below)
We still have plans to expand in Spain and further afield. To this end the association papers have now been signed. This means that, inside the next few months, we will have our own cannabis association in Spain and will be able to lawfully supply our members with cannabis!
Recently, we were also lucky enough to make contact with a skilled underground breeder here in Spain who was kind enough to give us numerous seeds! We haven't had a chance to plant any yet but Bob is very excited to try them out.
We want to be able to help as many people as possible and we are working to get the resources to do this in place. It might take us a while, but we will not rest until we are able to help everyone who comes to us in need and in good faith. A lot of people ask how they can help us. Empowering others to help us is important, true, but it's even more important to empower people to help themselves, to help the cannabis community, and to help society at large.
So, how can you go about helping yourself, your fellow patients, your neighbours and your society? Money is, of course, part of it, and we will never look a gift horse in the mouth! But that isn't even close to the whole of the solution.
Firstly, you can provide guidance to those around you. People need guidance, they crave it. In the absence of guidance from people with benign intentions, they will listen to the loudest voices; this is normally the media, whose intentions are less than benign and are usually perfectly aligned with the interests of the powerful elites in our society. Teach your family, your friends and your neighbours that they have been, and are being, lied to. Cannabis is just the tip of this iceberg, but the struggle for cannabis legalisation is a useful tool to show people that the monied elites (or the governments, given that they are one and the same) do not have our interests at heart.
Our other favourite way of helping is direct action, and this is something we will continue to advocate for. Helping people on an individual basis – supplying them with medicine, blankets food – is incredible, but we won't win their drug war with blankets. We would really like to see a LOT more from the cannabis movement. In particular, we'd like to see the cannabis movement take a leaf from groups such "Beat the bailiffs and the banks". We were heartened to see the huge turnout of protesters for the eviction of Tom Crawford, a cancer patient who fell behind on his mortgage repayments because of his illness. Despite the turnout, Tom has now been evicted even though he has paid the back payments he owed.
There should be a turnout like that EVERY SINGLE TIME big business and their cronies – the police – attempt to illegally enforce their will on us, the people. They are already losing. There are three cannabis grows to every police officer in the UK, and the Tories are about to cut police funding further. Will it soon be four, five grows to every officer? West Yorkshire police have already admitted they cannot afford to police the Misuse of Drugs Act as it pertains to the production of cannabis. Imagine, if EVERY TIME the police tried to raid a grow there was a turnout of activists like there was for Tom Crawford, costing the police thousands in overtime payments. Prohibition of cannabis in the UK would be over inside a month. Sadly, the cannabis movement seems to be full of people who like to talk about injustice – and post about it on Facebook –  but few who are willing to stand up and be counted when the time comes. An example of this is the poor response – little more than a whimper! – from the UK's cannabis movement to the recent arrest of Michelle X, cannabis activist and MS patient.
For the time being Dark City CC will focus on cannabis, but we will never forget that cannabis is just one battleground in this war on our culture. This war which, by the way, we did not start, we did not ask for, we did not invite. War is their culture, not ours. Nonetheless, WE will win the war, not them. Their culture, their war, is based on fear, ignorance and greed and, as such, is doomed to fail. Our culture WILL prevail.
– Sean