Wednesday 11th November 2015 8pm-9pm BST
 

DarkCity Cannabis Compassion Club
with
Fredrick President of Green Seed Alicant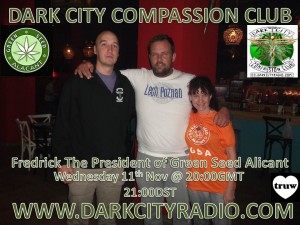 This weeks show, the panel will be interviewing Fredrick, from Green Seeds Alicant. This is the best association in Spain by far and we are not just saying that because we work with them. All you have to do is google the club and see the reviews they are getting about their toilets hahaha.
Green Seeds Alicant are now providing DCCC oils for members of their association so we will talk about that as well.
We will hear in this show just how well the Spanish system does actually work.
Truw Media will also be joining us on the panal, they are making a documentary about Dark City Compassion Club and also Green Seed Alicant.
The documentary will be called Up Close and Personal with Cannabis Oil
panel members will be Paul Haydon, Sarah, Kev and Terresa.